#MakeADifference: Serving Humanity
October 18, 2022
@
12:00 pm
–
1:00 pm
EDT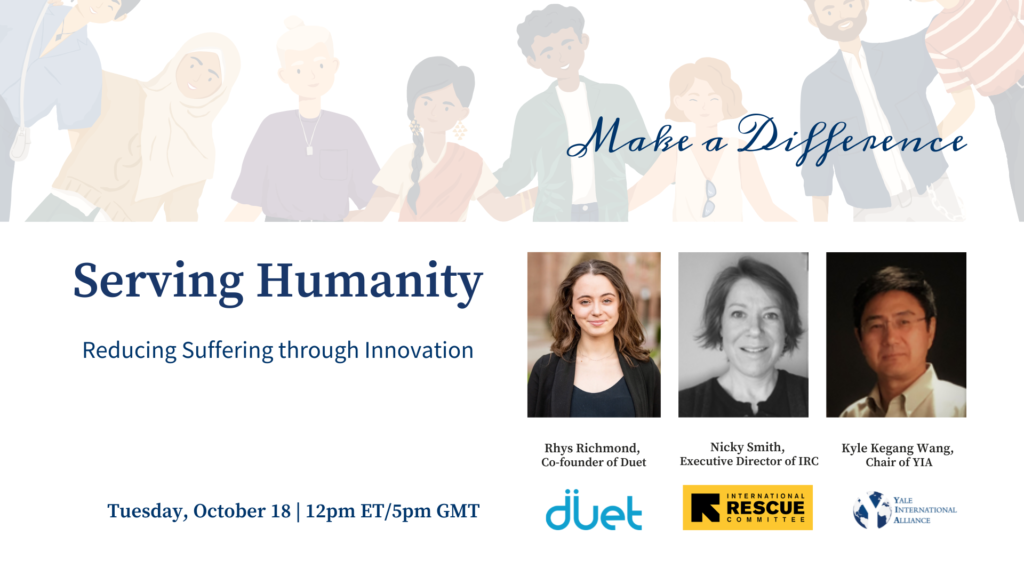 The YIA Refugee Service HubTM is a YIA partnership with the International Rescue Committee (IRC) and Duet. Together we facilitate refugee settlement in the U.S., making the process of donating easier, more efficient, professional and transparent. By leveraging innovative technology to give exactly what refugees request, instead of cash or goods that refugees don't need, donors directly help refugees fleeing from harm to a new home.
Do you like to know how your donation is used exactly and when and by whom?
How does our technology preserve refugees' dignity while helping them get assistance and become members of communities in which they settle?
How does our platform play a role in building local businesses and the economy?
If you are wondering how it works and how the YIA Refugee Service HubTM is different from other donation platforms, please join us on Tuesday, October 18 at 12pm ET / 5pm GMT to find it out directly from YIA's Chair Kyle Kegang Wang, Duet's Co-founder Rhys Richmond, and IRC's Executive Director Nicky Smith.
Please register here: Registration Link
About the Speakers:

Rhys Richmond is the co-founded and currently serves as COO for GiveDuet, a philanthropic start-up designed to reimagine international asylee aid by connecting international givers, resettled refugees, and small family-run businesses on a transparent and efficient charity platform, initially launched on the island of Lesvos, Greece. After graduating Summa Cum Laude with a Bachelors of Science in Biomedical Engineering from the University of Southern California in 2021, she took a gap year to work on expanding Duet's operations both in Greece and in the United States. She is now a first year student at Yale School of Medicine pursuing a Doctor of Medicine (M.D.) degree. Rhys is a life-long dancer and animal lover – you can often find her in a dance studio or attempting to train her two rambunctious Siamese kittens (who you may see in the background of her Zoom screen).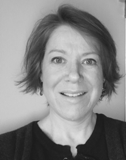 Nicky Smith is the Executive Director of the International Rescue Committee in Washington. IRC Washington provides opportunities for refugees, asylees, victims of human trafficking, survivors of torture, and other immigrants to thrive in America. She has 30 years of progressively responsible professional experience with Non-Governmental Organizations in crisis affected countries; of which 12 years have been spent in a conflict and post conflict setting. Nicky is a member of the Civic Council of the Masters of Arts in Applied International Studies Program at the Jackson School of Business, University of Washington. She is also a member of US Global Leadership Coalition. Prior to her role as Executive Director at The IRC in Seattle, Nicky was responsible for establishing and managing new country programs for The IRC. Her areas of expertise include emergency preparedness and response, country-program management, refugee policy and advocacy, and strategy and change planning. Nicky joined The IRC in 2003. From 2007 to 2010, she was a member of The IRC's Washington, D.C. office, working to educate policy makers and the public about the importance of providing resources for humanitarian and development assistance in Africa and Asia, and promoting programs that prevent violence against women and girls. From 2003 to 2007, she worked in some of the organization's most sensitive situations, including managing The IRC's single largest country program, Sudan, and serving as the IRC Country Director in Liberia during a key moment in the peace process. Before joining The IRC, Nicky worked for almost 10 years with Doctors Without Borders and Children's Aid Direct in the Democratic Republic of Congo, Rwanda, Burundi, Afghanistan, Somalia, Iraq, Pakistan and Nepal, amongst other countries.

Kyle Kegang Wang serves as the Board Chair of Yale International Alliance (YIA), a 501c-3 nonprofit Yale Alumni Shared Interest Group under Yale Alumni Association. Kyle's global perspective is built upon his 4+ decades of work and travels in over 40 countries and his various leadership roles in industries, nonprofits, startup ventures and strategic consulting activities. After receiving his degrees from Yale (1985) and University of Chicago (1993), Kyle worked for 35 years in corporations and tech startups including serving as CEOs in several clean tech companies and holding executive roles in fortune 500 companies. Over these decades Kyle has served on over a dozen corporate and nonprofit boards in several continents. He is passionate about making positive impact by mobilizing maximum number of global citizens to address the key challenges of our time, including the unprecedented refugee crises we face today.
Related Events